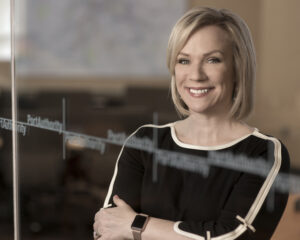 As we celebrate the 35th anniversary of the American Public Transportation Foundation (APTF), I would like to acknowledge the incredible work of our Board of Directors, staff, and supporters who have helped make the APTF what it is today. Outgoing Chair Jannet Walker-Ford did an exemplary job, laying the foundation I hope to build upon.
Our mission at the APTF is clear: we are dedicated to supporting the industry by providing scholarships and engagement opportunities to our future industry leaders.
Since APTF's founding in 1988, we have provided more than $2 million in scholarships to nearly 400 scholars and public transit professionals. These individuals have gone on to make significant contributions to our industry, and we are proud to have played a small part in their success. 
Diversity and inclusion are critical components of our mission. As we work to achieve our goal of supporting a diverse and inclusive workforce, we remain committed to supporting the education and advancement of scholars representing varied backgrounds and perspectives. We recognize that as an industry, we must ensure that we lead with inclusion as we address the continued gaps in gender and ethnic diversity. As I've said before, we often support the best candidates we know; APTF is the best way to support the best candidates we don't know, and the broader we cast our net, the richer our pool of talent.
We don't stop with scholarship awards. APTF operates a robust mentoring program to connect our scholars and the industry. We understand that it takes more than just financial support to help these individuals succeed, and through our mentoring program, we provide scholars with valuable guidance and support as they navigate their careers in public transportation. This support is especially critical for first-generation and nontraditional students who often lack the support network to navigate college, especially when navigating a full-time job as well as family obligations. True support of a diverse workforce requires a commitment to equity, and mentorship is a vital part of this support.
Our friends in the Business Members Board of Governors (BMBG) have historically shown strong support for APTF, and this is evident in both the increasing number and size of awards made by the foundation. Public sector agencies benefit by employing scholars once they complete their schooling, and when our employees receive support from APTF, we reap the benefit well before graduation. In the past, transit CEOs have supported APTF because we have skin in the game, yet that support has waned, and few of us contribute to the foundation. I ask that all of my peers step up to support this vital work, either through a recurring contribution, through your agency budget, or both. Our salaries and scope vary widely; we can support the foundation with a monthly automatic contribution and show our teams that we are personally committed to their success.
As the chair of the American Public Transportation Foundation, I am honored to support an organization that has made such a significant impact on the future of the public transportation industry. 
I look forward to continuing our mission of supporting the next generation of transportation professionals and working towards a more diverse and inclusive industry.