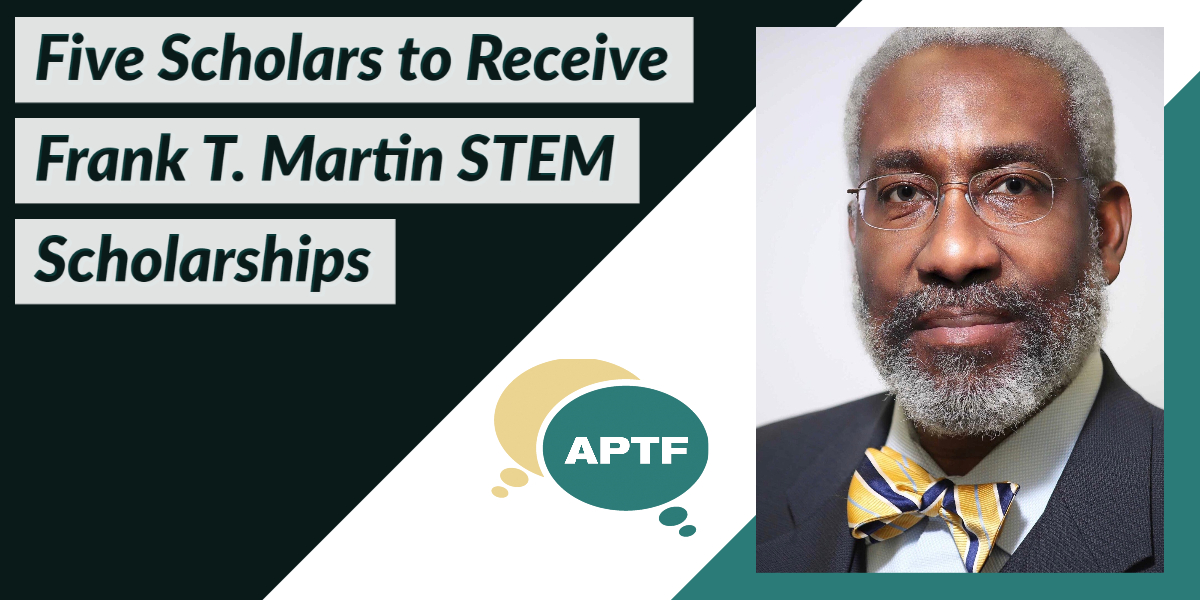 As part of the American Public Transportation Foundation's (APTF) 2020 scholarship program, the foundation board selected five scholars to receive Frank T. Martin STEM Scholarships. This scholarship fund was championed by APTA Hall of Fame inductee Frank T. Martin and supported by APTF Board member Raquel Olivier, president of Olivier, Inc. Mr. Martin created the scholarship for an undergraduate or graduate-level student majoring in engineering, computer science, or data analytics with the intent to pursue a career in public transportation, enrolled at Florida Polytechnic, Fisk, or Tennessee State Universities. Mr. Martin is an alumnus of Fisk and TSU, two Historically Black Colleges and Universities (HBCUs), and recently completed his eight-year term of service on the Florida Polytechnic University board of trustees.
The five scholars selected to receive scholarships are working towards degrees in science, technology, engineering, or math (STEM) related majors and plan to pursue careers in transportation upon graduation. In outreach to potential donors for the scholarship, Mr. Martin shared more about the evolution of the scholarship: "as a servant leader throughout my professional career, I have always paid "Civic Rent", giving back to the communities where I lived and worked spanning the past 45 years. The establishment of this scholarship will provide financial assistance to African American students preparing to become the next generation of transportation leaders in STEM."
Of the more than $30,000 raised, the scholarship fund will award $26,500 in scholarships in 2020, with the remaining funds to be rolled over to support awards in 2021. The scholarships were award to the following recipients: Chisom Okwor and Josiah Jones from Fisk University; Iyana Clemente from Tennessee State University; and Ritchel Calvaire and Cedriss Saint-Louis from Florida Polytechnic University. The Foundation will recognize the 2020 APTF Scholars at the APTA TRANSform Conference and EXPO, March 14-17, in Anaheim, CA. More information about the APTF 2020 Scholars will be shared in an upcoming issue of Passenger Transport.
Organizations who have contributed towards the Frank T. Martin Scholarship:
Avail Technologies, Inc.
CenterState Bank
Dovetail Consulting
HNTB Corporation
National Insurance Consultants, Inc.
Olivier Inc.
Rohadfox Construction Control Services Corp.
Skye Connect Inc.
Individuals who have contributed towards the Frank T. Martin Scholarship:
Mahvash Armand
Susanne Arnett
John Buckingham
Jeff Clifford
Gary Coles
Chris Dabbs
Robert Dwyer
Jake Eckert
Renee Edwards
Anita Griffith
Reneisha Henry
Eno Inoyo
Sumithra Jagannath
Ryan Larsen
Jonathan Lee
Alex Lodde
Frank T. Martin
Rickey Maxey
Cheryl McKissack
Helen McSwain
Jesse Oliver
Wendell Olivier
Wayne Overman
Daryl Perkins
Robert Prince
Ronald Reekes
Devin Roy
Mike Scanlon
Barry Schulz
Dr. Beverly Scott
Kari Smith
Marvin Thomas
Stephanie Wiggins