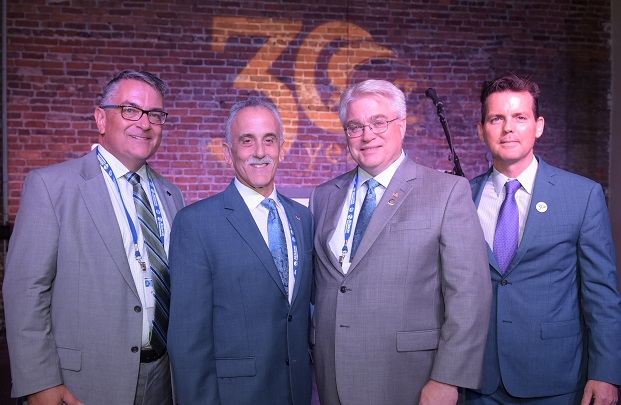 APTF Celebrates 2018 Scholars at APTA Annual
The American Public Transportation Foundation celebrated its 30th year at the APTA Annual Meeting September 23-25 in Nashville, TN. The festivities began on Sunday, September 23 with a fundraising reception held at Acme Feed and Seed. Annual meeting attendees joined the 2018 APTF scholarship recipients, sponsors, and friends to celebrate the foundation's 30th year and to raise money for future scholarships. Through sponsorships and donations at the reception, the APTF raised over $125,000, which will be added to the foundation's general fund. The event also honored APTA's 2018-19 Chair, David Stackrow. Friends and colleagues Stephen Bland, CEO – WeGo Transit, Carm Basile, CEO – CDTA, and Raymond Melleady, Executive Vice President – USSC Group (pictured), spoke at the reception and congratulated Mr. Stackrow on his chairmanship.
At a ceremony held on September 25, the APTF board of directors awarded $205,000 in scholarship funds—a record amount of funds dispersed—to 33 students and public transit professionals. This year's scholarships included two new named scholarships, the Nathaniel Ford and Stephanie Pinson Scholarships. Since the APTF was created in 1988, the foundation has awarded over $1,200,000 in scholarships to more than 350 scholars pursuing careers in public transportation Please visit the Current Scholars page to see the 2018 APTF Scholarship Recipients.