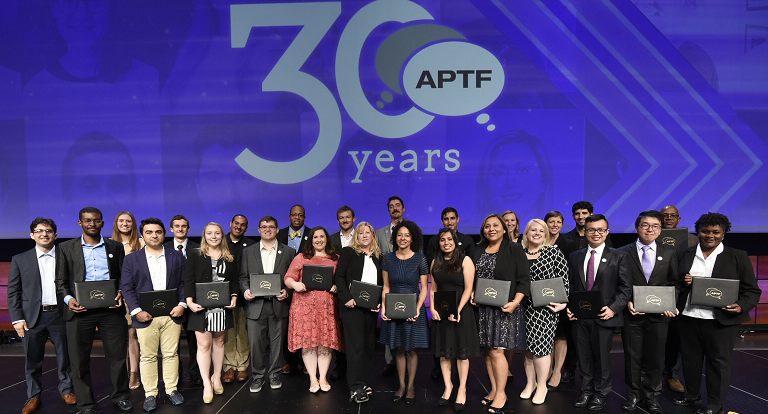 APTF Presents 37 Scholarships at APTA TRANSform Conference
The American Public Transportation Foundation (APTF) presented a record-breaking $246,000 in scholarships to 37 recipients at APTA Honors Awards breakfast on Tuesday, October 15, during the TRANSform Conference.
Along with the foundation's 21 named scholarships, the foundation was pleased to award four single-year scholarships in 2019. Single-year scholarships are unique for the foundation because they are non-endowed, titled scholarships that are created and awarded in the same year. This year's scholarships were the KFH Group Scholarship, the Gary Thomas APTF Scholar Ambassador Program Scholarship, the APTF/Mineta Transportation Institute Scholarship and the MV Transportation/Latinos in Transit Scholarship. The 2019 MV Transportation/Latinos in Transit Scholarship marks the first time that the foundation has partnered with Latinos In Transit, a non-profit organization dedicated to the advancement and development of Latinos and other minorities in the public transit industry.
In 2019 the APTF also created an academic partnership with the University of Miami to establish the Wulkan Family/American Public Transportation Foundation/University of Miami Graduate School Endowed Scholarship. This effort was led by Alan Wulkan, APTF Board Member and President of the Wulkan Group. The University of Miami will use the endowment to provide tuition assistance to graduate students with interest in a future career in public transportation and will award the first scholarship in 2019.
Along with the awards ceremony, the APTF held a fundraising reception in conjunction with the TRANSform Conference welcome reception on Sunday, October 13. All conference registrants were invited to join the 2019 APTF scholarship recipients, sponsors, and friends to celebrate APTA's 2019-2020 Chair, Nuria Fernandez, at a lively welcome reception that set the tone for a week of learning and networking. APTF representatives were on site collecting donations to support the foundation's mission to provide scholarships and engagement opportunities to the future leaders of the public transit industry.

Passenger Transport will announce the 2019 recipients in the October 14, 2019 issue.