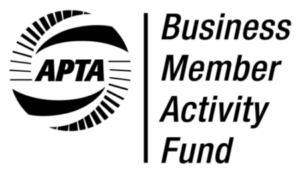 APTF Starts 2019 Off Big at BMBG Meeting
The American Public Transportation Foundation (APTF) achieved two major milestones at the recent Business Members Board of Governors (BMBG) meeting in Naples, FL. With several APTF board members in attendance promoting the foundation, APTA's business members demonstrated once again their personal commitment to the future of the public transit industry by contributing $23,900 to APTF's scholarship programs.
With special thanks to APTF directors Fran Hooper, Jeff Wharton (BMBG immediate past chair/APTA Executive Committee), Huelon Harrison (BMBG chair/APTA Executive Committee), Jack Martinson (BMBG/APTA Executive Committee), Dominic DiBrito and others, APTF raised the highest total amount in the history of the annual BMBG meeting. This total also represents the BMBG's largest single donation and the greatest number of individual contributions to date.
In addition, under Martinson's leadership, APTF launched its new Corporate Recognition Initiative at the meeting. The program rewards corporate entities that make major and cumulative contributions over the years, offering successively higher recognition levels, including involvement in the scholarship selection process and consideration for placement on the APTF Board of Directors.